We are so happy to offer the Award Winning Early Music Program Music Together starting this Summer!
Are you looking for the best Mom and Me music program?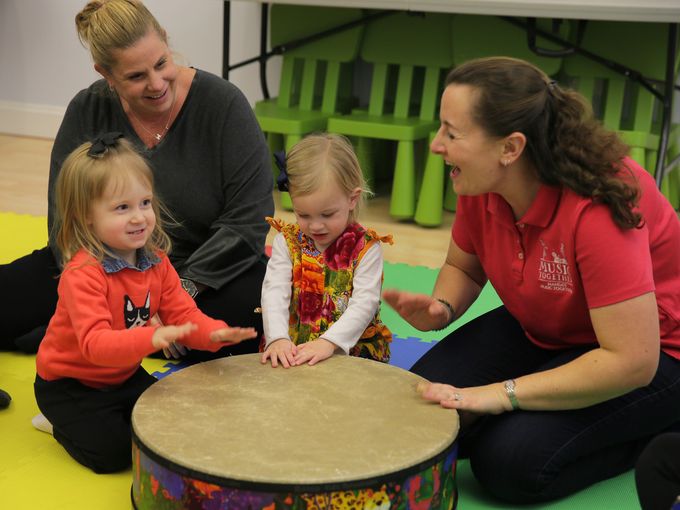 A Music Together® Class is...
A community of children and their families and teachers sharing songs, instrument play, rhythm chants, and movement activities in relaxed, playful settings.

Music learned through developmentally appropriate activities that support and respect the unique learning styles of babies and young children.

Children participating at their own levels in mixed-age family-style classes.

Parents and caregivers contributing to the enrichment of their child's music environment—regardless of their own musical abilities.

45 minutes of PURE FUN with your child each week!
Each semester includes:
Weekly 45-minute classes teaching a new song collection every fall, winter and spring (summer classes are a mix of various collections).

"Music Together at Home: Helping Your Child Grow Musically" parent DVD for new families.

A professionally recorded CD and songbook for each semester.

Parent education to help adults understand and enhance their child's music development.
Music Learning Supports All Learning
You'll have so much fun wiggling, singing, and moving with your child that it will be easy to forget how much learning is taking place! Our research-based curriculum not only develops musical skills, it nurtures creativity, self-expression, and confidence while also supporting social, emotional, cognitive, and physical development.
Click the register links below to register online for Fall classes! The schedule is as follows:
| | | | | | |
| --- | --- | --- | --- | --- | --- |
| Mixed Ages (birth - 5 yrs.) | Tuesday 9:30 AM - 10:15 AM | Sep 13, 2016 | Nov 15, 2016 | Amanda | Register |
| Babies Class (0-8 months) | Tuesday 12:00 PM - 12:45 PM | Sep 13, 2016 | Nov 15, 2016 | Amanda | Register |
| Mixed Ages (birth - 5 yrs.) | Wednesday 1:30 PM - 2:15 PM | Sep 14, 2016 | Nov 23, 2016 | Jney | Register |
| Mixed Ages (birth - 5 yrs.) | Friday 10:00 AM - 10:45 AM | Sep 09, 2016 | Nov 11, 2016 | Jney | Register |
| Mixed Ages (birth - 5 yrs.) | Friday 11:00 AM - 11:45 AM | Sep 09, 2016 | Nov 11, 2016 | Jney | Register |