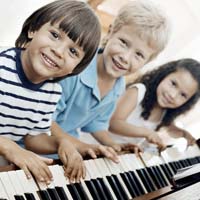 Our group piano or group guitar lessons are meant for students who are motivated by, or just enjoy working as part of a team.
The social interaction helps these students stay motivated and challenged in a supportive, friendly environment. Each class is a 45 minute session and limited to 4 students per class. Students will either progress into the next group level or into private lessons.
Group classes are also a great idea if you have two or more children and they like to learn together or one of your children and a couple neighborhood friends want to get started at the same time and learn together.
Please also ask about our summer group piano and group guitar camps - They are a great way to get started and get a head start on a preferred day and time for fall lessons!
Our Group Guitar and Piano classes are $80 per month.