Piano and Keyboard
Get better faster with our lessons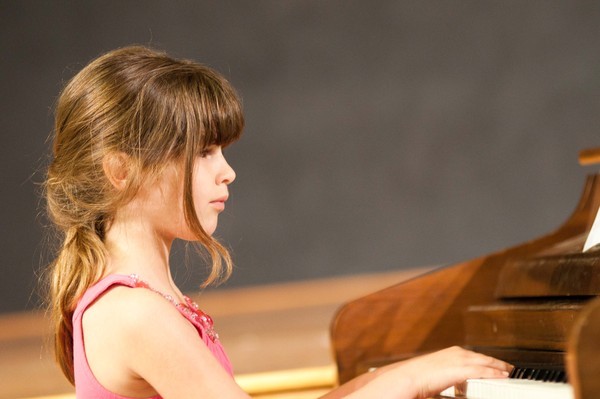 We offer every style of piano lessons from classical, jazz and pop. We have students who want to play just for fun and students who wish to excel to the highest level. As we have so many piano teachers on staff we are able to match students with a teacher that works best with their particular age, ability and interest. We start piano lessons at any age from age 5 onwards. Before age 5 we recommend a group preschool music program. Our private piano lessons are one-on-one instruction and lesson lengths are 30 minutes or 1 hour.
Voice

Singing is fun and we'll help you improve right away
Students sing all kinds of music in our voice lessons. Our voice teachers have university training in music specializing in voice and sing everything from pop and jazz to opera. Our teachers all have performance backgrounds as well. Just a sample of what a student will learn in singing lessons includes how to breathe properly, how to increase their range, proper pitch, how to project and stage presence. Our schools offer 2 optional performance opportunities each year with our Winter and Spring recitals. We provide a professional accompanist who rehearses with the students and plays for them at the recitals. Many of our students also perform at local festivals. Our private, one-on-one voice lesson lengths are 30 minutes or 1 hour.
Guitar
Learn some fundamentals and start playing songs at your first lesson
We have an excellent guitar teaching staff and teach guitar lessons in many styles including rock to jazz, classical and pop. Many of our teachers actively perform in bands. Our guitar teachers have college or university music degrees so they know how to teach the proper theory and technique no matter if a student is interested in metal or in classical. Guitar lessons at our schools are enhanced by the opportunity of learning how to jam with other musicians in a rock band setting put together by the instructors or how to perform solo in one of our recitals. No matter what type of guitar lessons you are interested in, we have the teachers to help you. Typically a student is 6 or 7 years old before starting guitar lessons, due to their hand size, but some younger students start with a junior sized guitar. Our private guitar lessons are one-on-one instruction and lesson lengths are 30 minutes or 1 hour.
Our group guitar lessons are meant for students who are motivated by, or just enjoy working as part of a team. The social interaction helps these students stay motivated and challenged in a supportive, friendly environment. Each class is a 45 minute session and is limited to just 4 students per class. The class room is set up as a guitar workshop with each student bringing his or her own guitar to the class each week. Students can choose either acoustic or electric guitars for their class. Students will either progress into the next group level or into private lessons. These classes are meant for beginner level students. Group guitar classes are offered for students ages 8-12 and ages 13 plus.
Violin/Strings
Your child will play in tune and sound better with our help
Our violin lessons start as young as age 5 and students can study all styles of music on string instruments. Due to the size of the instrument, most cello lessons start at 10 years of age or older. We have students of all ages from children to adults. Our violin, viola and cello teachers have university or college degrees in their instrument and many perform regularly with local orchestras or bands. Our private lessons are one-on-one instruction and lesson lengths are 30 minutes or 1 hour.
Flute/Clarinet/Sax/Woodwinds
Students play better in the school band and get solos
Our private flute lessons generally start at age 7 and older, but sometimes younger students will start with a special curved-head flute.As with all our instruments the teachers have university or college degrees in woodwinds. Our flute lessons are offered in 30 minute or 1 hour lengths.
Saxophone & Clarinet Lessons - Our private saxophone lessons and clarinet lessons start from age 8 onwards. Earlier than age 8, a student typically does not have the lung capacity and strength to handle these instruments. Our saxophone and clarinet instructors are proficient on both instruments so a student can start with clarinet lessons if they wish and switch to saxophone lessons without having to change instructors. Our saxophone and clarinet instructors actively perform in all types of bands and ensembles and as soloists. Saxophone lessons and clarinet lessons are offered in 30 minute and 1 hour lengths.
Bassoon & Oboe Lessons - We also offer lessons in other woodwind instruments such as bassoon and oboe. Most bassoon lessons or oboe lessons start at age 11 or older as these double reed instruments are a little more difficult for younger students. Our private bassoon lessons and oboe lessons are offered in 30 minute and 1 hour lengths.
Trumpet/Trombone/French Horn and Tuba
Your son or daughter will play their horn loud and proud and sound great
Students for these instruments usually are ages 9 or older as they need to have developed a greater lung capacity and in the case of the tuba need to be big enough to hold the instrument. Our brass teachers have university or college degrees in music and perform in everything from salsa bands to local orchestras. We can help students enhance their skills for their school band program or develop advanced skills to become soloists. Lessons are offered in 30 minute and 1 hour lengths.
Drums

It all starts with rhythm and your child will be a rhythm king or queen!
Our students learn on a drum kit. We have both male and female students and typically do not start drum lessons before the age 7 as students need to be able to reach both the pedal and the cymbals. We do have some younger students but suggest they come in for a trial drum lesson to see if they are big enough to get started. Drum lessons are taught on a drum kit in our studios but students are able to get started practicing at home on practice pads before purchasing or renting a drum kit. Our drums lessons stress proper technique so students become good drummers quickly. Our drum instructors have university or college training and are active performers. Private drum lessons are available in 30 minute and 1 hour lengths.
"Our daughter loves her guitar lessons at School of Music and Drama, and she's making really nice progress. Yesterday I noticed that she added rhythm into her chord playing, which was so great to hear! She is also enjoying her voice lessons a lot. It's wonderful that we are able to do this all virtually for now, so successfully." Deb Degnan, Oceanport, NJ